Ethiopian Coptic Icon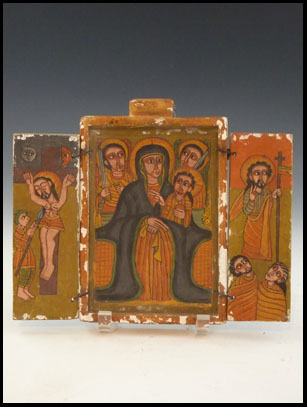 Price: $6,500.00








Ethiopian Coptic Triptych - 18th-19th Century. The origins of the Ethiopian Coptic Church, which are Semetic and Christian, date as far back as the 4th century A.D. ICONS: Holy images painted on wood in diptych and triptych form were meant for personal devotion. The outer surfaces were decorated with abstract relief carvings.

8"H x 5.25" w x .5"D NOTE: measurements are with panels shut.
ADDITIONAL DETAIL PHOTOGRAPHS ARE AVAILABLE SHOULD YOU REQUEST.